Concepts and Features of our Educational Curriculum
Graduate School of Tottori University from AY 2017 (in Tottori Area)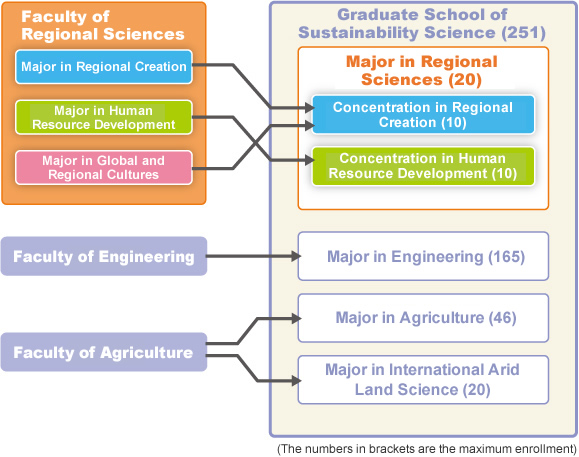 Titles of the Degrees
Students who have successfully completed the concentration in Regional Creation will obtain the degree of Master of Regional Sciences; those who have successfully completed the concentration in Human Resource Development will obtain the degree of the Master of Education.
Curriculum Characteristics and its Philosophy
In order to develop the ability to think for themselves and cooperate with people in various specialized fields in finding answers to the challenge of creating a sustainable regional society, our curriculum offers students to learn extensively across the boundaries of conventional academic disciplines while deepening their expertise.
Outline of the Common Courses of the Graduate School
Foundational Courses
Those courses enable students to obtain the qualities of highly specialized professionals and to acquire the foundational and comprehensive knowledge for a broad understanding and creating a sustainable society.
Cross Disciplinary Courses
To examine issues regarding a sustainable society with higher perspectives, the graduate program offer three groups of courses thematically centered on environment, regional, and global topics. These courses will provide opportunities for students to think and learn systematically across disciplinary boundaries.